The Lewisham Islamic Centre is pleased to confirm that the online news site, My London which is owned by Reach Plc (which is one of Britain's biggest newspaper groups, including the Daily Mirror, Sunday Mirror, The Sunday People, Daily Express, Sunday Express and many others) have corrected their recent misleading article about the Centre.
They published an article on 20 September 2022 titled, 'South London mosque could bulldoze nursery and shops under new plans' with respect the Centre's redevelopment project.
In the article, they mentioned that the plans for a new mosque and flats, could see a nursery and bookshop bulldozed as the Centre needs extra space for the growing number of worshippers visiting the mosque.
The article, which was shared by those from the far right online, generated a number of negative and Islamophobic comments including the following:
"Since when do mosques come before nurseries in a Christian country"
"Disgusting"
"The council should refuse the muslims planning permission"
"The takeover is in full swing…."
"Businesses gone. What do the council and its residents gain from this?….."
"This is an absolute disgrace"
"Do useful building destroyed for useless buildings"
"So F the nursery and bookshop for yet another mosque!…."
"WE DON'T WANT THOS in our country. More housing for British people is needed and growth for businesses! @LewishamCouncil Get off your knees and do your jobs properly" .
The headline and the contents of the Article itself, is clearly wrong and misleading. In fact, the shop (Words of Wisdom Islamic Bookshop), and the nursery (Zaitoon Nursery) referred to, are themselves part of the Centre, and are owned by the Centre. These are therefore part of the Centre's own premises and existing structure which will need to be demolished along with all its other adjoining buildings in order for the Centre to be able to build the new structure. We wonder what those very same racist agitators would have said if they knew that the shop and the nursery in fact belong to the Mosque.
After threatening legal action, Reach Plc have now corrected the article adding: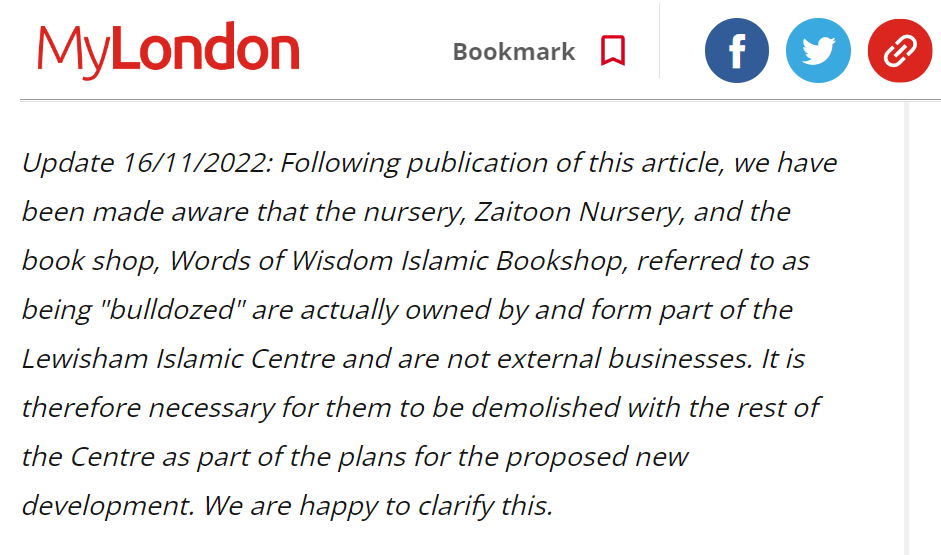 Alhamdulillah, this is another success for the Centre in challenging those who seek to defame it and create mischief.